The NT has instructions from Jesus around how to behave around fasting. I.e. Don't look like you are fasting, don't go round making a big thing of it. etc.
But, I don't hear much about fasting from Christians that I know.
Are they being really good by not telling anybody, or are they just not fasting?
Seems like they should be doing it, but it's never mentioned.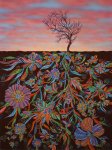 How do you fast? How often? When do you do it? How often are you supposed to do it?
1