I have spoken these words before and made threads like this in the past but sometimes certain words and certain lessons need to be re spoken and be retaught because you never know how many hearts have never actually heard it and need to hear it.
If you were to ask a group of people what they think it means to be a strong Christian you will get several if not many different answers, we all in some way want to be strong as believers and as Christians even as people in general. Not only as people but as believers in some way or another we look at weakness and strengths in ourselves and in others, we subconsciously compare ourselves to others and also as believers defining what strength and weakness is even in our debates in cc when we are in a heated debated we may without even meaning to think this person is not just wrong but weak in wisdom or in faith heck sometimes even if we say only God knows the heart think this person is not even saved or is just a false believer.
I see these things in peoples hearts and in my own because I myself have experienced and seen all of this in the mirror of my own heart. For those of you who have known me for a while you know how I have an identity issue, how I have a low view and self esteem of myself. All I have known in my life is my weakness inside and out even my body is frail and weaker than most so I know what it is like to feel weak and lacking compared to others. The thing is I am not alone in this, there are many believers out there who feel weak, lacking and inadequate in many ways regardless if that is compared to others or as a believer. Yet it is funny how blind we are to ourselves with our own eyes, we can see ourselves how we view our own person but a lot of times it requires another persons eyes to know your true self.
My amazingly beloved Stephanie for instance like to compare me to a show I am in love with called my hero academia, one of the main hero's has two forms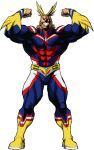 The one on the left she often says is how so many people in my life including my family my closest friends and especially myself see me, the one on the right she says is how I am really am in my heart and spiritually. There is a reason this show speaks to me so much it's not just because it's a good show but it speaks so much of how the weak are actually truly strong in their hearts and God in his unpredictability has taught me and helped me so much trough this show alone. So what is weakness? what is strength? what does it mean to be strong as a believer in general? is it faith? is it wisdom? Is it all the gifts and attributes of the spirit? If you were to ask me personally what I think it is my answer would be none of the above. Yes they are all a kind of strength but from what I have seen it is the willingness of a persons heart.
We can be completely lacking in every area and aspect in this world and in his kingdom but if father can find that one heart who regardless of all their weakness offers their willingness without extent or limits he can do far more with them than anyone who is strong in all kinds of areas. It isn't the strong he seeks it is the weak and the willing, there is a reason Paul boasts and praised God of his weakness. Yet more often than not the strong are blind to how strong they really are and view themselves as the images you see above. However there must come a time when we see ourselves as we truly are, it is vital that we are able to see through a different lens for the sake of those who see themselves as we used to, not that I of course have any room to talk as I am still trying to see through these new eyes but this thread and post is one I could feel needed to be said. There are hearts that can only be reached here in cc and when God places words on your heart to speak it feels like you will burst if not spoken and so when he places words in my heart to speak I can't help but to do it. But it's also more than that my heart somehow feels as I write it that it's meant for a specific people whose hearts may need to hear it or perhaps there are those who will simply receive it or perhaps they need to be reminded as I know I often do.
I also do understand that my speech seems very self conceited as I speak of my own self and experience thoughts and feelings often and I don't tend to use scripture in posts either and for all who this irritates or bothers I do apologize