Nov 4, 2014
6,381
6,903
113
The ultimate Salvation that gives us eternal life in Him is such a huge everlasting Blessing. I am so grateful. We talk about Heaven and Hell, and the consequences of believing or not. But I want to call to remembrance the value of having Him now, regardless the outcome after our flesh ceases to take another breath of Yahweh.
Yes, our eternal lives matter. Again, I am so thankful for the hope He brings. His peace and so much more comes with knowing that one day all our suffering will be over. The importance of salvation in the lives we lead, however, right here, right now, while we are are still here also has great significance. He isn't just saving us for down the road when our physical selves are no longer relevant.
A softened heart of flesh come with choosing to receive His Grace. I think that a tender and teachable heart and mind are such precious gifts, especially when put into action. When we don't walk in His spirit, we can become cold hearted, indifferent, unkind, bitter, angry and unforgiving, uninspired, slandering, gossips, filled with worry, suspicions, greed, haughtiness, pride and selfishness, lacking any self control. Are not those some of the very things of the flesh that we are to be saved from? I wonder...are we putting our salvation up on a shelf, hoping to secure our spot when we need it?
Don't get me wrong, we will always need His grace, His intercession. Our natural tendencies towards sin will always surface, but they definitely are not to have dominion over us. He died so that we can too, our sinful ways, rooted in hearts of stone, that is. We should renew our thoughts in Him, guarding our Hearts and minds in Him.
He is clear on what He expects and wants from us. He wants us, our hearts and minds, to abide in the richness of His Glory today and always. How can He use us, if the core of who we are opposes who He is?
Let love be without hypocrisy. Abhor what is evil; cling to what is good. Be devoted to one another in brotherly love; give preference to one another in honor; not lagging behind in diligence, fervent in spirit, serving the Lord; rejoicing in hope, persevering in tribulation, devoted to prayer, contributing to the needs of the saints, practicing hospitality.
Romans 12:9‭-‬13 NASB
For I am afraid that perhaps when I come I may find you to be not what I wish and may be found by you to be not what you wish; that perhaps there will be strife, jealousy, angry tempers, disputes, slanders, gossip, arrogance, disturbances;
2 Corinthians 12:20 NASB
with all humility and gentleness, with patience, showing tolerance for one another in love,
Ephesians 4:2 NASB
But encourage one another day after day, as long as it is still called "Today," so that none of you will be hardened by the deceitfulness of sin.
Hebrews 3:13 NASB
to malign no one, to be peaceable, gentle, showing every consideration for all men.
Titus 3:2 NASB
being filled with all unrighteousness, wickedness, greed, evil; full of envy, murder, strife, deceit, malice; they are gossips,
Romans 1:29 NASB
He has told you, O man, what is good; And what does the Lord require of you But to do justice, to love kindness, And to walk humbly with your God?
Micah 6:8 NASB
But if you are led by the Spirit, you are not under the Law. Now the deeds of the flesh are evident, which are: immorality, impurity, sensuality, idolatry, sorcery, enmities, strife, jealousy, outbursts of anger, disputes, dissensions, factions, envying, drunkenness, carousing, and things like these, of which I forewarn you, just as I have forewarned you, that those who practice such things will not inherit the kingdom of God. But the fruit of the Spirit is love, joy, peace, patience, kindness, goodness, faithfulness, gentleness, self-control; against such things there is no law. Now those who belong to Christ Jesus have crucified the flesh with its passions and desires. Let us not become boastful, challenging one another, envying one another.
Galatians 5:18‭-‬24‭, ‬26 NASB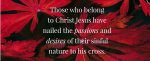 2

1