So I know this doesn't apply to the married men here on CC.
But I saw this posted on FB and thought it might bring up some interesting discussion...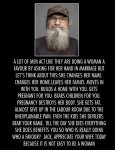 Please keep the discussion to what is said in the picture. I dont watch Duck Dynasty,if you do thats great. B
ut I dont want a discussion about the tv family!
I want to hear how you feel about what the picture says. Please do not derail the thread.