Sep 17, 2016
6,792
3,364
113
Some quotes will needs expanding to fully read in context.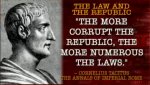 During Washington's farewell address in 1796 he could see the ending results of the French Revolution that was becoming the aftermath of thevenlightenment ideals of secularism and liberalism. The people began to hate Christianity in total due to Roman Catholic corruption in the church and began to exile and kill anyone of the faith many without trials. It has been estimated 40,000 people died. The Government even going as far as to change the calendar to not be set on Christian beliefs.
But instead of suffocating the corruption they dropped Christianity all together for pagan or secular practices.
The
French Revolution 5 May 1789 – 9 November 1799
Establishment of a secular and democratic republic that became increasingly authoritarian and militaristic
Radical social change based on liberalism and other Enlightenment principles
Rise of Napoleon Bonaparte ( back into tyranny)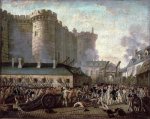 It ultimately led to a irreligious world under a tyrannical government. The biggest lesson to learn wasn't to completely abolish religion especially the Christian religion where morality is ultimately based.
"And let us with caution indulge the supposition, that morality can be maintained without religion
Our Constitution was made only for a moral and religious people.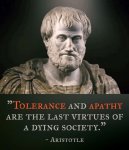 Aristotle also once warned on the affects of tolerance and apathy.
Tolerance is in the headlines all around us. We are being asked to tolerate everyone's beliefs except the Christians beliefs. Equality this and that in order to push religion into illegality.
Jeremiah 6:15 (NIV)
15 Are they ashamed of their detestable conduct?
No, they have no shame at all;
they do not even know how to blush.
So they will fall among the fallen;
they will be brought down when I punish them,"
says the Lord.
Society wastes its money on pleasure and selfish gains. Then once in debt they are forced to release more freedoms to the government hoping the government will fix their problems. More power to the government only leads to a tyrannical government.
Jeremiah 9 (NIV)
1 Oh, that my head were a spring of water
and my eyes a fountain of tears!
I would weep day and night
for the slain of my people.
God judges nations for their sins and I feel terrible to see many people racing to such destruction. But we are not without hope as Jesus is still our Savior, God trains up new generations and
2 Chronicles 7:14 (NIV)
14 if my people, who are called by my name, will humble themselves and pray and seek my face and turn from their wicked ways, then I will hear from heaven, and I will forgive their sin and will heal their land.