Sep 17, 2016
6,998
3,458
113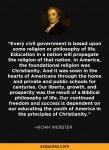 Noah Webster (1758 – 1843), was a lexicographer and a language reformer. He is often called the "Father of American Scholarship and Education". In his lifetime he was also a lawyer, schoolmaster, author, newspaper editor and an outspoken politician.
In 1807 Webster began compiling a fully comprehensive dictionary, An American Dictionary of the English Language; it took twenty-eight years to complete. To evaluate the etymology of words, Webster learned twenty-six languages, including Old English (Anglo-Saxon), Greek, Hebrew and Latin.
Webster completed his dictionary during his year abroad in 1825 in Paris, France, and at the University of Cambridge.
(Every civil government is based upon religion or a philosophy of life. A worldview is how does one perceive the world. What beliefs they hold that answer the basic questions in life. The does God exist, do we truly exist or what is reality, does objective truth exist, if so how can we know truth, does morality exist, are we soulish beings, does Heaven and Hell exist, which human beliefs best fit reality?
Education without religion obviously produces future secular generations. Most kids spend more time at educational institutions than a church. No surprise they walk away from the faith.
Three out of four Christian teens
walk
away
from
the church after they leave home. The reasons are debatable but mainly to the worship of self and the idol of sex or the pressures to fit in.
Noah Webster told us the Biblical worldview was the reason for the Nation's growth, prosperity, and most importantly liberty. A truly revolutionary move in the time of history of dictatorships, monarchs, and tyrants.
But a fair warning that if we continue to allow the propaganda education of our youth it would destroy success and freedom. A rising debt, pre civil war conditions, unborn being torn apart, speech being censored, businesses being sued for not bowing to LGBTQ groups, self defense rights are wanted illegal, political parties are publicly announcing that atheism better fits their party.
We was forewarned. History forewarned us. How oh how does every society fail to learn from the mistakes of the past until it is too late and the only way evil gets eradicated is by the blood of the innocent and those willing to finally stand.
The sociological studies and examination of civilization throughout history by observation shows the more secular the society becomes the worship of self collapses the nation from within if it was lucky enough to not get conquered from without.
"America will never be destroyed from the outside. If we falter and lose our freedoms, it will be because we destroyed ourselves."
-Abraham Lincoln
Rise and fall of Civilizations was observed by Alexander Fraser Tytler, a European historian published The Decline and Fall of the Athenian Republic. In his publication, Tytler reported that from his research he had determined the following:
From bondage to spiritual faith,
From spiritual faith to great courage,
From courage to liberty,
From liberty to abundance,
From abundance to selfishness,
From selfishness to complacency,
From complacency to apathy,
From apathy to dependency,
From dependency back again to bondage."
Nine steps until we repeat.
"The
definition
of
insanity
is doing the same thing over and over and expecting different results." -Albert Einstein
Is life just one insanely belief that we can do better than our predecessors? But only to repeat as a broken record the woes of our own destruction?
The Israelites repeated this process over and over and over to evidently provide a historical example that even God's chosen nation would still be vulnerable to this historic truth. A generation fails to adequately prepare the next generation as self becomes most important.
If we fail to hold a worldview that accurately fits reality then complacency and apathy brings the collapse of society faster as the people wonder in the unawareness of the danger to blindly seeking self satisfaction and losing the love for others.
The average constitution lasts 21 years. Without a strong foundation they collapse. The war of the worldviews is after all the source of any war in history.
H. G. Wells once wrote in the War of the Worlds.
Be a man!... What good is religion if it collapses under calamity? Think of what earthquakes and floods, wars and volcanoes, have done before to men! Did you think that God had exempted [us]? He is not an insurance agent.​
H.G. Wells,
The War of the Worlds
People of today are we any more special, wiser, or different to believe we won't repeat mankind's mistakes? Are we exempted of this sin if we fail to keep it under lock and key?
Take ahold of this truth and grip it with white knuckle intensity. Let it penetrate every chamber within the mind and what is thought becomes action before action is equated to a hopeless cause.
As Winston Churchill once brilliantly said,
"If you will not fight for right when you can easily win without blood shed; if you will not fight when your victory is sure and not too costly; you may come to the moment when you will have to fight with all the odds against you and only a precarious chance of survival. There may even be a worse case. You may have to fight when there is no hope of victory, because it is better to perish than to live as slaves."
Stand now for whatever is true, whatever is noble, whatever is right, whatever is pure, whatever is lovely, whatever is admirable—if anything is excellent or praiseworthy—think about such things. Because the watchers have sounded the alarm only to fall on previous deaf ears. )