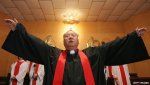 China says it may try to create a theology based on Christianity - that integrates the religion with Chinese culture and is compatible with the country's socialist beliefs, it's been reported.
Wang Zuoan, a senior official for religious affairs, says China supports the development of Christianity within the country. But "the construction of Chinese Christian theology should adapt to China's national condition,"the state-backed China Daily website reports. His comments came at a conference for Sinicization of Christianity in Shanghai.
It's thought there are about 23 million to 40 million Protestants in China - 1.7% to 2.9% of the total population - and that each year, about 500,000 people are baptised as Protestants. But China's ruling Communist Party is officially atheistic and relations with the church have sometimes been strained. People are only supposed to worship in places approved by the government, but many underground churches operate in China too.
In Wenzhou - sometimes called China's Jerusalem, where more than one in 10 people are Protestant - state authorities are cracking down on what they say are illegal church buildings, taking away or threatening to remove crosses at more than 130 Protestant churches and demolishing some entirely, the Taipei Times says. It cites experts and church leaders saying they believe the authorities are alarmed by the quick growth of Protestantism in the area, and are trying to suppress it.

BBC - Homepage