CNN reported on the suicide death of "transgender" teen Josh "Leelah" Alcon.
They linked his suicide to his parent's religion. (See screenshot below.)
This leads me to a question.
Are we getting to a point where Christian parents could have their children taken away from them due to belief in a religion that supposedly drives parents to "abuse" their children by not accepting the "validity" of the "transgender" issue?
Will being a Christian parent be considered as dangerous as other destructive things like drinking or drug problems?
More stories like this will continue to link highly emotional situations like suicide to Christianity. Will this push people to demand removal of children from Christian parents?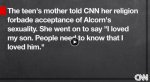 The transgender life: What to know, say and understand - CNN.com