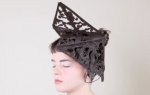 Are you worried the government will eventually be able to read your mind?
This group is taking a preemptive strike making "mind protecting," fashionable headwear.
The company, "
Anti-NIS Accessories
," states on their website:
"New forms of neuro-imaging technology are developing that may one day allow for surveillance and interception of the contents of our minds. Anti-NIS Accessories is a series of proposed objects designed as a form of clothing that maintains privacy of thought and action."
It claims the devices don't completely block access to the brain because that would require bulky, complex equipment.
Officials said on the website the devices work through "cognitive diversion."
............................