Honor, Courage, Commitment
Jun 25, 2017
4,758
2,641
113
SICK!!! They are essentially overtly stating that they are going to be running live experimental Vaccine Trials on our KIDS!!!
Have you had enough yet??!!!
Can you see the WRONG Here???!!!
Can you see the UNWARRANTED RISK to 2nd and 3rd order complications and side effects on the VARIABILITY of OUR KIDS UNIQUE BIOLOGICAL HEATH, UNKNOWN ILLNESSES and RISKS...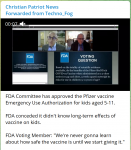 1