I'm not going to say where I got the images or who the girls are but... I'll let you see and then I'll explain.
The images on the left look like real people, that I would want to approach or actually talk to. And the people on the left I would just as soon not talk to or pretend they didn't exist.
It wasn't until I saw these that it hit me, how biased(?) I am. I suppose I have been very judgmental of people who wear makeup. Simply ignoring them or believing they were shallow or one dimensional or using it to cover a train wreck of emotional scars.
BUT, in this personal discovery I noticed that I am a minority. Most guys like the girls on the right more than the ones on the left.
So yeah.
You're probably the first male that I've read to have a view as such.
Nothing against those who choose to wear make-up either, as it's their personal choice.
I'm not one to wear much, only just eyeliner, mascara and lipstick but I am aware of the culture that women in this society have to live up to.
For me, the only person I want to ever impress is God, and God alone.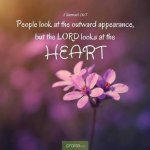 1