Rachel was a student who died in the Columbine shooting, even though she died at a young age, she has inspired many to live better lives. She was also a Christian. I believe her idea was to start a chain reaction of positive ideas.
"Her family and friends operate Rachel's Challenge, an inspirational outreach program with the goal of starting a chain reaction of kindness."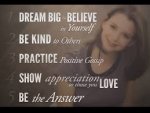 I wanted to start a positive thread, with honoring a martyr in Christ at the same time. With that said......
With all the ups and downs life brings, I'm still thankful for this life that God has given. Thank you Lord for everything.
3

1