The singles forum is getting awfully personal lately. lol
5 things huh?!?!
I like iphones, the smart GPS is amazing.
I'm currently working on a 10 song demo.
In the past, I was a avid surfer and tennis player, now I'm mostly doing snowboarding and mountain biking.
ISTJ - Introvert/Sensing/Thinking/Judgment.
I'm mildly dyslexic, so if you see bad grammar, and confusing sentences.....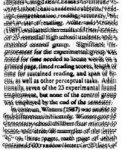 Welcome to my world. lol
I just discovered that following text, while listening to an audio book, helps so much for my comprehension. I remember way back in grade school I was in the slower reading class, and when I transferred schools when my parents moved, had to take a reading and comprehension test. My teacher told me to read a paragraph and I did good, but than she asked, what did you just read about, and I was like, I don't know. lol
My reading disability hasn't stopped me from finishing school and college, but it has definitely had it challenges in the working world. I had to work much harder to keep up with my co-workers, but still achieved really high progress reports many times, although sometimes have failed miserably. Thank you Jesus for making me different!