As singles awareness day approaches....... I wonder who is behind celebration of wealth distribution. Is it Big Chocolate, Big Florist, Big Greeting Cards, National Association of Restaurants, or something more sinister?
After work, I headed to Wally World, first time I've been there in a year. I got some socks that are quiting on me. I walk in to see no less then 5 aisles devoted to the celebration of love. This is when I remember the day is fast approaching, and I have two little ones. What kind of father would I be, if I didn't get them something?
When I was married, every year, I would get my wife a stuffed lion. Anyone who knows me, would see how the lion matches my identity. It was kind of cool thing, unfortunately if I ever got married again, I'd have to come up with some tradition that is way better. Going to be hard to top.
I was wondering if anyone on here was the kind to buy Valentine's day, or to make it. Is this a sham, pushed upon us?
What kind of Valentine's day traditions do y'all have? What would y'all expect on Valentine's day from a lover? What do y'all have going on the 14th?
I'm supposed to be off that day. I may share some grilled salmon with my cat Callie.
This is what I got from Wal-Mart for the kids.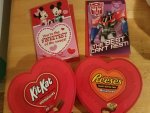 I saw this on the interweb today. Kinda tickled me. How many ladies would melt over a chicken nugget Valentine?
You would have my heart if you brought me bacon.