Honor, Courage, Commitment
Jun 25, 2017
4,028
2,450
113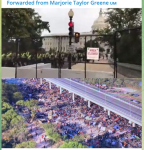 Today, massive forces of Capitol police and a fence around the Capitol to keep out Americans who are protesting J6 rioters being held as political prisoners.
Today, 11,000 people are invading the US at the Del Rio, TX border with no law enforcement of any kind helping Border Patrol stop the illegal invasion.
The regime is full authoritarian.
@MarjorieGreene