Oct 24, 2016
2,803
183
63
[TABLE]
[TR]
[TD]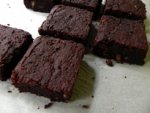 Black Bean Pumpkin Brownies[/TD]
[/TR]
[/TABLE]
These Black Bean Pumpkin Brownies are fudgey, thick, chocolatey, gooey and filled with with melty chocolate chunks and buttery walnuts.


Ingredients
1 cup small flake, large flake or quick oats (or oat flour)

1 tsp baking soda

½ tbsp instant coffee (optional but recommended)

3 cups of black beans (canned or cooked)

3 tsp vanilla extract

⅔ cup maple syrup, agave syrup or honey

¼ cup apple sauce

¼ cup pumpkin puree or increase apple sauce to 1/2 cup

6 tbsp cocoa powder
Mix-In.
1/2-1 cup dark chocolate chips

1/4 cup walnuts
Directions
Pre-heat oven to 350F/180C and grease a 9x9 brownie pan with non-stick spray.

In a food processor, blend the oats until they form a "flour" consistency. Blend in the baking soda and place mixture in a large bowl.

**Rinse the black beans very well and shake off the excess water** This step ensures your brownies do not taste like beans!!

In the food processor, add the instant coffee (optional), rinsed beans, vanilla extract, maple syrup, apple sauce, cocoa powder and pumpkin purée. Blend until creamy and smooth.

Add mixture to the flour bowl to combine and mix well with a large spoon.

Add in the chocolate chips and chopped walnuts.

Place mixture in pan and spread out with the back of a slightly damp spoon. The batter is thick!

Bake for 20-30 minutes and leave to cool for 5 minutes in the pan before slicing and serving - Make sure to not over-bake! (*Baking time will depend on your oven and altitude. My brownies are usually ready in about 20 minutes but some readers have commented that their brownies are ready after about 30 minutes. Adjust baking time based on your oven!)

Reheat later for 30 seconds in the microwave for a warm brownie treat!
12 servings 306 calories