I admit I have played Halo and I really enjoyed it. As a Christian I played the online version and felt it was OK to play. Then one day God showed me what the halo is. For over a decade Halo (the series) has been the top selling computer games by a landslide. There are now novels for kids on Halo
Pic of the halo from the game: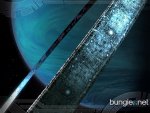 As I was paying the game God showed my the "halo" or giant spinning ring is the sacred circle used in satanism and witchcraft. It is the circle around the five pointed star. In the game it is said to be an object of worship and unlimited power.
Covenant
- Most religous references in Halo belong to the Covenant forces. Covenant forces are a
theocratic alliance
of ugly space aliens. That's right, they all believe in God. To win the game, you must kill them all.
Halo
- The Covenant forces found the huge mega structures called Halo rings which are relics of the Forerunners and consider them to be sacred.
Grunts
- The Grunts are small feeble minded characters who often show cowardice in the game and seem to be mocking most Christians.
Elites
- Are a fierce enemy of the Covenant who kill by use of a high tech sword. Their high tech swords can cut thru armor and the bible (our sword?) is sharper than any sword (compare with Hebrews 4:12). Elites give instructions to Grunts. I assume Elites are pastors who wield a sword (bible) and the grunts are simply their followers.
Ark
- The Ark in the bible protects life but the Ark in a Halo is the Control room for destroying all life in the universe. This mocks our Christian beliefs.
Forerunners
- These are the gods who created the video game. Employing deism to describe our Almighty God is a backhanded way to insult the one true God of Christianity.
Prophets
- Prophets are royal rulers of the covenant who are feeble yet sinister Covenant characters who sit in a gravity throne. There are three types of prophets: 1)Prophet of Regret. 2) Prophet of Mercy. 3) Prophet of Truth.
There are many other types of religion mentioned in Halo.
List of references to religion in Halo - Halo Nation — The Halo encyclopedia - Halo 1, Halo 2, Halo 3, Halo 4, Halo Wars, ODST, Reach, Anniversary, and much more!
Please think twice if you are going to play these games as I believe they not so subtly mock Christianity.