Feb 21, 2014
67,508
5,385
113
Hello everybody!! I'm a busy little ladybug these days! LOL!
I have been asked by some of you to write threads on various topics. This thread is about my faith book that I put together specifically for the people of Christian Chat! For those of you who have read my depression and suicide threads, you know what my faith book is and what is in it. For those of you who do NOT know what a faith book is, it is a folder I put together of various inspirational pictures, poems, prayers, and bible verses. I use my faith book every day on here, and on my computer at home. Special congrats go to Gali0022, who loved my idea of a faithbook, and is now creating one of her own!
Special thanks also goes out to ThePottersClay, Cate7, BADDOG, jb800m, MayMayMayMay, Gali0022, and several others who encouraged me to do this for everyone to benefit from. I hope my CC faith book will help, inspire, and give hope to each and every one of you!!

Please feel free to add to the CC faith book.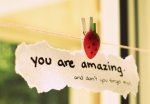 ​Thank you for reading and/ or contributing to this thread. God bless you all!
1