Apr 26, 2012
1,477
402
83
62
My health hit some waves this summer and I realized how important healthy eating is and exercise, and in speaking with a lady friend from church this evening, I was reminded of my gluten-free product ideas I've been meaning to develop, since I also have a ciliac diet condition (gluten-intolerance).
What this means is that I must avoid eating or drinking wheat products. My idea is to market gluten-free products, such as pies with corn-based crusts, and other food items, which must remain undisclosed until I can secure legal protection for my original food product ideas.
This me exercising (for us older folks that includes physical therapy routines) with the inspiration of a well known exercise and health guide and nice cover lady who promotes healthy eating and exercise.
It's mostly a women's magazine, but I really liked the cover, and so I read up on the healthy living ideas that us guys don't usually think about without women's help, since we tend to sit around and watch TV and eat chips, pizza and an occasional beer. But, my gluten-free ideas would help my health.
The first photo is with my exercise/physical therapy ropes and pulley's, and second one I was trying to represent a dude version of the T-shirt modeled by the nice exercise lady on the magazine cover. I thought this might be one way to help me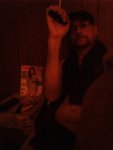 find a girlfriend to help me get motivated with my exercise program and healthy living.