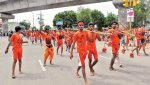 Friends, these days you can see people with saffron dress, no slipper or shoes, carrying water pots on their shoulder and walking on the roads, these are kanwariyas.
These kanwariyas for a month have naked foot, donot eat sour things. They carry water from some rivers, or ponds to a temple, and pour this water on the idols. They think their sins are forgiven and by doing so for a month, they think God will bless.
Can you agree and prayer, kanwariyas come to know of Lord Jesus and walk in the Light. Let Lord Jesus redeem these souls and bless them.
God bless!
2

1