(This is a three-parter because we can only put up but so many photos in a post -- and less than I think too, so have to rework this even now. lol So bear with me while I work on the three posts, and sorry that it will go from last to first by the time I'm done.)
I've never hid who I am on this site. Hubby and I have been saved since before we met each other and we're coming up to our 37th anniversary. The Lord has been chiseling us for a long time. We were both healthy when we married. We even bought the house in a middle-class neighborhood 26 years ago.

And then 17 years ago, I became disabled. And 14-15 years ago, he became disabled. With both of our abilities hindered, we lost church and friends along the way. No grudges. It's just that if the couple can't go out for more than 90 minutes and can't keep up with the housework to have people over, where can those relationships go?

Someone was listening and being nudged by the Lord. PennEd. Yeah, our PennEd! (If you haven't met him yet, he's a good'n on this site.)

Last spring, Ed PM'd me to ask me if he and his merry band of Men's Group Guys could help us. I doubt he remembers this part, but he also said he wasn't very handy with tools, so he was the gofer/grunt of the operation.

17 years since the last time this house was truly organized and cleaned. We jumped at the opportunity, thinking he meant they'd help us get rid of stuff we can't do ourselves. We had become involuntary hoarders, with a little voluntary lumped in.

So, he and his friend Rich came over one night after work. (No small thing, even there, since they live in the burbs and we live in Philly.) I wasn't being shy about the mess I hoped they could clear out.

Here's what our study (third bedroom) looked like.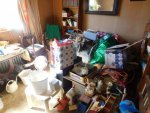 No kidding! That's a whole day of heavy labor, right? Not enough for Rich though. He wanted to know what we would like fixed. The first thing that came to my mind was our front windows. But it was the front windows specifically because I thought it would cost too much money to buy new windows, and the old ones were falling apart when we bought the house. (The rot was hidden by paint, so we didn't know for a couple of years. And the cost for new windows was about the same as buying a small new car, so we had to save for it.) No way was I going to mention that one! It's too much to ask anyone else to do.

Here is the bad window. (There is very little bottom ledge to it.)


This is the good window for reference.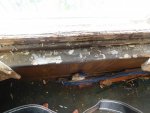 So, nope. Wasn't going to mention that at all. But I did remember one of the disadvantages to having very little ceiling left in our bathroom. We had started remodeling it ourselves back in the 90's. We, (and by "we" I mean I was manual labor, and John was skilled tradesman) had already put in new walls, but the ceiling was a problem we didn't know how to fix. And then it became "we couldn't fix." A false ceiling hid the real lack-of-ceiling. So, the weatherproofing, (if there was any to begin with), or dust of 100 years was falling down at any given moment.

The wide part of our bathroom ceiling. (That bright spot is the skylight.)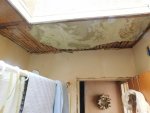 The hard part of the ceiling. (I think you can tell that's a skylight here.)


Rich seemed interested in that job. Why? I'll never know other than, must have been the Lord.

And when I showed them the mess in the basement, we passed our kitchen. He wanted to know if we'd like to do anything about the light in the kitchen. At least, that's how I heard it.

Light in kitchen.




Have you ever become so used to something that you don't even see anything wrong with it? We had a transparent covering for that light that made the kitchen look descent. It's a delicate operation, and the fluorescent tube went bad, so John changed the tube, and felt too weak to put the cover back on. I tried pulling it out to show Rich, but it fell apart. That's how long it had been. So, I thought if he could put a couple of ceiling tiles up there, it would be cool. (Mind you -- so far, they had only seen one hoarding room and I was taking them to the second. How much could four or five guys do in a day? And, honestly, I didn't see anything wrong with it.) I saw the cogs in Rich's brains whirling. And Ed was smiling as if he had seen those cogs whirling before.

Next came the basement.

The second hoarding room.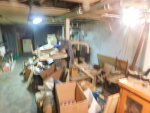 Seriously? Between the study and that room, can't you see a full day of sweaty labor? I'm not being easy on them. But, oh no! Rich's cogs are still clicking.

Rich is talking reinstalling light fixtures again. (Some fell down over the years, but we couldn't reach them.) Doable, if they can get the junk out. Deal!

So, they're still asking me what else I'd like. I don't know if they ever understood this, but gaining two rooms again for us is huge!!! I'm trying not to cry just over that.

Still asking, as we go on the front porch. So, since we're right there, I remember the forsythia. Years ago, I bought a bare-root forsythia online, a 25-gallon container, the soil to fill it, and placed it next to our steps. Have you ever noticed the size forsythias can get? Let's just say that wasn't one of my better ideas. I had been cutting it back when Ed and Rich arrived. I've been cutting it back every year, since I bought it. I have to, or else it falls over at the slightest breeze. It still falls over in storms. 25 gallons of soil! It's like lifting up a 250cc dirt bike! I can do it, but it kills me the next few days.

But, I'm fully aware plants are living things, and I can't intentionally kill it either. (I often have the same problem with weeds.) I've asked many businesses if they'd like it. And they would, if I brought it to them. :? So, I asked Ed if he could move it to a pocket garden up the street from us. (It's a median strip between two lanes of the same street, but it's wide enough that it's lined with ginkgo trees on both sides and lawn. In between each set of ginkgo trees, the city added decorative plants -- some flowering bushes in a circle. Those are "pocket-gardens.")

I have no idea, but Rich notices that "good window," and thinks it's the bad window. He's talking painting those windows. I'm trying to explain that I fear if the paint comes off, it's the only thing holding up the windows. (Not kidding. I have been steadily praying those windows don't fall out in a gust of window for over 20 years. If they fall out, our house would be condemned. I truly believe God's grace kept the windows in place.) He's poking at the good window, and saying they might have to remove a piece of wood here and there, but they can make those windows look good.

We're dumbfounded. (Picture this. Me! Unable to complete a sentence. Also a miracle, right? lol) Ed's beaming, Rich is still thinking overtime, and they leave.

I think we experienced something of what it must be like to win a million dollars. Quite a bit like it. What's the first thing you'd do if you saw the winning lottery numbers on your ticket? Me? I'm questioning if I read them right, and I'm pretty sure I didn't.

John is stuck on "Wow!" I keep asking if he thinks it's possible. He keeps saying, "He sounds like he knows what he's doing." And, then I reread the ticket and remember the extra number -- the bad window. The reason you couldn't see that bad window clearly is because stacks of storm windows covered it up.

I'm quickly PMing Ed why they can't merely fix the windows, but that's okay. The rest is great. We're still blown away.
Next: Part Two -- The Big Fix!