Sep 17, 2016
5,960
2,783
113
Proverbs 25:26
New International Version
26 Like a muddied spring or a polluted well
are the righteous who give way to the wicked.
The image below is the Strait of Georgia during the annual Fraser River freshet. When fresh water (murky) meets salt water (blue). Salt is more dense and the freshwater expands across the top until you see the divide like below.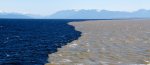 The wicked being the muddy and murky water cannot mix with vibrant blue of the salt water.
To retain our saltiness as Christians we must equally hold the line between what is righteous and what is wicked.
In the second image we see the murky water which has actually spread out over the salt water at about 5 meters in depth.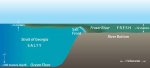 There are those who will allow the wicked to overrun them and suppress them. Many of the righteous have allowed this for at least a century plus.
We are seeing just how murky and contaminated this cultural front can be.
If we give way to the wicked then we deserve the judgement to come. In the turbulence of salt and freshwater mixing, the clash creates a unique environment where if under the right factors it will produce life that attracts others.
Let us hold the line so that we may produce life, and produce life in abundance.