It was antifa that got into the Capitol.

You are so backwards with your cnn garbage propaganda.
It actually was not.
They were QAnon followers .....incited by the President of the Union states who sent them.
Why do Trumpers support civil war and then decry when people become violent.
Tell me why didn't Ted Cruz, Kelly Loeffler and Josh Hawley greet these comrades with open arms.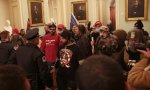 1

1