Honor, Courage, Commitment
Jun 25, 2017
3,274
2,183
113
Let the GAMES BEGIN... DOJ makes statement to SQUASH the AUDITS... The LEFT/MSM/DS will attempt to STIFLE the TRUTH at ALL COSTS... Their attempts to block the AUDIT RESULTS from being made PUBLIC will likely lead to the TRIGGER...
There is NOTHING THEY CAN DO to STOP the TRUTH from being EXPOSED...
Their attempt to BLOCK/CENSOR the ELECTION FRAUD will likely be the TRIGGER for the STORM...
Think CHESS...
DS Moves to Counter the AUDIT RESULTS
White Hat Patriots Counter-Move the DS with actions that will serve to Change the TIDE of HISTORY FOREVER... BIBLICAL!!!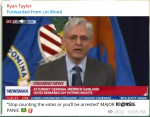 1