That's a really tall man you have there in your diagram. In reality, a selenelion can be seen from on the Earth (one is not required to be at a space altitude to see it). A to-scale model of your diagram would have your observer seeing through the Earth to get the visual on the sun and the moon at the same time. Also, the observer does not need to look downward to see the sun or the moon (even if the observer could see through the Earth). All factors which refute the heliocentric explanation of a lunar eclipse.

Neither model satisfactorily explains the heavenly phenomena, in my view. The heliocentric theory requires a wobble that no-one ever can detect. It also requires constant acceleration and movement of the Earth, which is undetectable. To believe in heliocentric theory, one has to also believe in Einstein's theories of relativity, and Lorentz contraction to support these, which defies the scientific method (i.e. assuming experimental apparatus change by contracting during the experiment, without any proof of this).

The simple truth is that we can see further than should be possible, were Earth a globe. A curve is undetectable. Whatever explanations one assigns the heavenly bodies, Occam's razor makes it plain that the Earth itself is flat.

Big bangism and evolutionism (and the alien worship to come) can have no basis if the Earth is flat. A flat Earth exposes each of these for what they are - Satanic lies.
That was a very tall man in that illustration... If the man was to scale i agree that he wouldn't be able to see the bottom of the sun but he would be able to see the top of the sun as it is bigger than earth... The moon on the other hand has me scratching my head. I agree that the moon would not be visible to the man in that diagram...
I had forgotten about all the flat earth arguments and that last one you mention is probably the best one...
Why are we able to see things on the horizon that should be out of sight according to the heliocentric model???
Could the world really be flat???
There is another piece of evidence that supports the flat earth theory...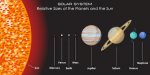 The scale of the sun and the earth...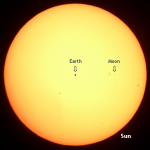 According to the heliocentric model the sun has a diameter which is 109 times bigger than earths
This means that at midday the sun should be filling up most of the sky. What we see instead is a small sun.
I know that its distance makes it appear smaller but i think it does look small given its distance and size
1