Hello everyone!
Hindi ko Pinoy, but I know some phrases/words.
Anyone here who also was on christianster.com?
Christianster no longer exists. I learned a lot on christianster by joining the conversations and debates.
I don't post often on this website. Just checking in every now and then. Would like to make new friends too...
Pagpalain ka ng Diyos!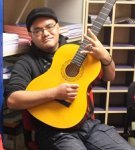 1

1