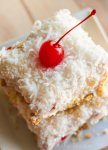 [FONT=custom-three !important]

Ingredients


[/FONT]
60 Vanilla Wafers, crushed

4 TBS butter, melted

16 oz (2 (8 oz) blocks) cream cheese, softened

½ cup cream of coconut

8 oz Cool Whip, thawed

8 oz can crushed pineapple in juice, with the juice drained

10 oz jar maraschino cherries, drained and diced

1 cup sweetened shredded coconut
[FONT=custom-three !important]

Instructions


[/FONT]
In a large bowl, combine vanilla wafer crumbs and melted butter. Press into the bottom of a 9×13 pan.

Beat together in your mixer cream cheese, and cream of coconut until smooth. Fold in the cool whip until combined.

Gently fold in pineapple and cherries and spread on top of the graham cracker crust.

Top with coconut and refrigerate for at least 3 hours. Enjoy!
Source