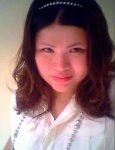 sorry still cant find my way uploading my profile pic here.
Hello! everybody my name is diana, 29, from PH.
I am a born again christian. I was saved last 2010.
Last year I was diagnosed with slipped disc.
After surviving a very painful experience.
God has Blessed me so much this year.
I was able to walk again.
Went out of town with friends.
Currently enrolled in Baking Class.
Serving as an usher in my church.
Still facing a lot of challenge this year.
I fear not.
I believed that God is still in control!
Last edited: