Sep 21, 2017
3,338
1,261
113
BOWEL CANCER TOTALLY HEALED
In 1978, at the age of 43 years, I was born-again by being baptised by full immersion and Spirit filled, speaking in tongues, as the Bible said would happen. I was immediately delivered from smoking, drinking and swearing. Since then I have been healed, blessed and provided for in so many ways, but the healing I received in 2008 was an absolute miracle from God.
I was at our Christmas Fellowship camp in 2007 when I started bleeding from the bowel. Because of its intensity, I went to my doctor who sent me straight away to see a specialist. In a matter of days I had a colonoscopy. When I awoke after the procedure, the nurse said the doctor took longer than normal because of complications, and he would ring me in the morning with the results.
The next morning the specialist said he had removed four polyps, the largest being three centimeters (just over an inch).
He told me that because of their size and appearance, and with his experience, they would certainly be cancerous and he wanted to see me again in two weeks to arrange for treatment.
I fasted and had lots of prayer to seek my God for a total healing from bowel cancer. When I went back the specialist told me, with an amazed look on his face, that it was not cancer. He could not understand it. He said, "There was not one cancerous cell in the polyps."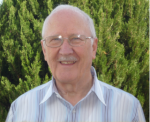 I have strong reasons for praising the Lord for this healing. I am the eldest of five boys and two of my younger brothers have died from cancer, one at 36 and the other at 49 years. The other two brothers have also had cancer and survived through lots of treatment.
Both my parents had cancer, my father dying from bowel cancer.
I was devastated when my youngest daughter passed away at the age of 44 years with brain tumors.
Without the comfort of the Lord in my life, I would not have been able to cope with all the tragedies I have seen.
I would like to praise the Lord for calling me, filling me with His Holy Spirit and changing my life and lifestyle for the better. He has given me peace and joy, and the hope of my salvation in Him. He is available to all who want to know and understand Him and His son, Jesus Christ.
Barry C, Adelaide, South Australia
The Revival Fellowship,
01st March 2013