Sep 17, 2016
4,786
1,922
113
Matthew 7:7 (NIV)
7 "Ask and it will be given to you; seek and you will find; knock and the door will be opened to you.
In our darkest hours, our rock bottom moments in life we pray out to God hoping for a miracle, a change in situation, a answer to the problems. If our eyes are too focused on the pit we may miss what God provides. If we are not focused on God we may continue to waste what God gives us, what he provided, or the answer may go unnoticed. Just as the man in the pit is only focused on the pit, he wastes what was provided and he remains trapped in the fear, depression, grief, sorrow, hopelessness, anxiety and rock bottom moment unable to push forward.
The picture can also represent what happens when rely too much on self and not enough on God. God tries to show us the way but we think we know better.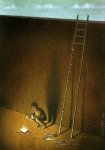 2

1