Nov 4, 2014
4,884
5,575
113
YOUR PLAN
Late at night when sleep has failed
And cares and worries drown my rest,
When I'm on edge and ill at ease,
As though on some illusive quest...
It's then I struggle in the quiet
In silence , tired, and alone
As fractured thoughts press deeper still,
And all my worries I bemoan.
And as I contemplate this life,
Lift up my face to see Your Plan
This world is waiting as You work,
Your ways unknown to each lost man.
Oh Lord my God come rescue me,
Forgive my weak and wondering thoughts.
Make strong my steps in step with Yours
Lead me always to the cross!
MJ Johnson..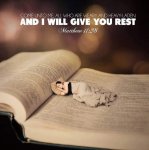 6