Jan 28, 2019
436
677
93
27
Happy Friendship Valentine to you too Elle. If I had to choose from all that candy, it would be the chocolate squares on the upper left!
My love for my kids goes deep. Anyone who has a child understands, that is if they truly love and care for them. Nothing more I want for my kids than to have the proper love, attention, and guidance they need to thrive in this world. They know this and give me lots of hugs back because of it!
Hugs back to you across the miles
You are a special lady.
Its official you rock !!!
Good morning Valentines. Enjoy a slice of my Reecees peanut butter cup cake and hang on until Friday. Friday will be awesome. Know why ? Valentines candy will be 75% off. 😁😂😘👍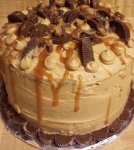 3

1