This year has seen censorship reach a whole new normal. It used to be done behind a veil of secrecy but now it is as blatant as it gets.
Teams of "fact checkers" go out trying to find "misinformation" to report... But I don't trust them...
So who pays the these teams of fact checkers??? What's their motivation??? No one works for free, they must be getting paid somehow... Its obvious to me that the only way they could pay these people is to take payments from the people that they are fact checking for...
So the mainstream finds people telling the truth and the truth starts getting around... That is the only time when they hire the "fact checkers" to come in and discredit the truth... So as a general rule now i disbelieve anything that they fact check or label as 'misinformation" or censor now...
Remember the nurse Tiffany Dover???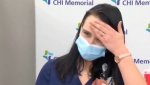 She fainted on camera, 10 minutes after taking the vaccine...
Now i find this headline...

What should we make of this claim??? Beieve the fact checkers because they are righteous and have no alterior motives???
Or be suspicious??? Very very suspicious???
2