Donald Trump is meeting with Czar Putin to finalize plans for a Trump dictatorship.

Supported by the Russians and Republicans, Trump will eliminate the Constitution and the bill of rights, and form a dictatorship, made up of extremists on the far rite. KKK, Nazi's, etc.

Citizens will have 30 days to turn in their guns. Anyone found with a gun after the 30 days will be shot immediately as a liberal terrorist.

----

Abortion will be made illegal, and all unwanted children will be raised by the state and called, "Der Fuhrer's children", or "Trumps children".
Not likely. Trump is pro 2nd Amendment. Trump also supports the U.S. Constitution and the Bill of Rights. Where do you come up with these lies? By the way, the KKK is a Democrat thing. Hopefully abortion will be made illegal, considering it is murder.
I am shocked at how ignorant so many people here calling themselves Christians are posting utterly ridiculous rants. Most of the posts I've seen here relating to Trump are totally void of any reason and are purely baseless rhetoric with nothing substantive to back up their would-be reasoning. Most of the rants I've seen are completely ignorant of historical FACTS.
Looks like a History Major needs to re-educate the illiterate here.

By the way, the American Democrat party is the party of the Ku Klux Klan, and the Nazi Party = National Socialist Party.
Democrats and Nazis are just 2 wings of the same bird, but their low IQ members would have us believe that it is the other way around. Perhaps if you fit into this category, you need to go back to grade school and don't leave until you pass a class in World History? For starters, I suggest you google the word 'klanbake.'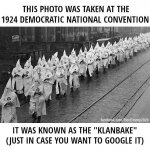 1