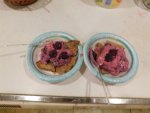 1 - 1.5 C frozen blackberries
2 T Half and Half or cream
2 T milk (I used fat-free milk)
Optional: Fresh berries for garnish on top

Grind ingredients together in a small food processor.

Two servings. (And, yeah, it may be tempting to make that one serving, but remember back when you were a kid and the after-effects of eating half the blackberries you picked.
)

I served this over homemade rosemary biscuits, which turned it into blackberry shortcake.