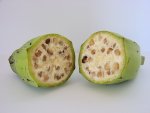 You can search ancient banana and read a very interesting article (it's not the only one) on what ancient fruit looked like.
Personally I have no issue with genetically engineered fruit because that's just breeding positive traits.
Much like with dogs.
Would be curious if there's anything unhealthy involved but other than breeding sweetness (and consequently less nutrition) like with strawberries I don't think it's too bad.
If you get strawberry seeds you are going to get close to the same thing (if you grow your own), you'd have to do reverse breeding
1