First, a passage from the Bible about the Queen of Heaven!

"16 Then the Lord said, "As for you, Jeremiah, do not pray for these people! Do not cry out to me or petition me on their behalf! Do not plead with me to save them, because I will not listen to you. 17 Do you see what they are doing in the towns of Judah and in the streets of Jerusalem? 18 Children are gathering firewood, fathers are building fires with it, and women are mixing dough to bake cakes to offer to the goddess they call the Queen of Heaven. They are also pouring out drink offerings to other gods. They seem to do all this just to trouble me. 19 But I am not really the one being troubled!" says the Lord. "Rather they are bringing trouble on themselves to their own shame! 20 So," the Lord God says, "my raging fury will be poured out on this land. It will be poured out on human beings and animals, on trees and crops. And it will burn like a fire which cannot be extinguished."

Quite simply, the Queen of a Heaven was a false goddess. By offering to her, whether veneretion or cakes, you are worshipping a false God!

The result is God is angry and and his wrath will get poured out on those that worship her.

I can't understand why anyone would make Mary, who was the mother of Jesus, into a pagan goddess whose worship results in God's wrath! That is wilful ignorance about what the Bible says!
Some Evangelicals have problems with this "Queen" thing. Perhaps the best way to explain it is to compare Heaven to the Commonwealth. We live in a time when the Queen of England is the highest in the Commonwealth. There is no king. She wears the commonwealth trousers. She is it. She is the focus. We grew up singing "God save the Queen." So it is natural that our contemporary understanding of the word
Queen
would be someone in highest authority. But what happens to the queen when there is a king? Then who has the authority? In commonwealth law, when there is a king, the queen has
absolutely no authority whatsoever
except the quiet whisper in the king's ear to influence a decision. (Jn 2:3)
JESUS IS KING
. He is it. Now if Mary is Queen, it means that
she has no authority whatsoever over his decisions
except a whisper in his ear (Jn 2:3). We call Mary the Queen without diminishing the King's (Jesus') authority in the least. In fact it reinforces it. What respectable King does not have a Queen? Revelation 12:1 says:
12 :1 A great portent appeared in heaven: a woman clothed with the sun, with the moon under her feet, and on her head a crown of twelve stars. 2 She was pregnant and was crying out in birth pangs, in the agony of giving birth. Then the dragon stood before the woman who was about to bear a child, so that he might devour her child as soon as it was born. 5 And she gave birth to a son, a male child, who is to rule all the nations with a rod of iron. But her child was snatched away and taken to God and to his throne..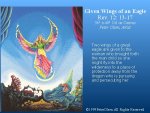 Jesus only had one Mother and this passage is talking about the woman that gave birth to the Saviour. She has a Crown. The passage also clearly shows Mary as an active participant in the war against the devil. The passage presents Jesus on his rightful throne.
If you are afraid to talk to Mary, I invite you to
Pray to Jesus about Mary
. I'm sure any Evangelical would say it is perfectly safe to pray to Jesus about anything. Ask Jesus what's up with Mary. Give him time to respond. We pray you have the same experience that has led to my powerful convictions about the validity of Mary as a helper for the helpless, and a great prayer warrior.