It is my understanding that the new Sanhedrin have note concluded the proper location....to date.
They do feel they have the Red Heifer now.
They have had two for a couple of YEARS now, and a newborn calf has been declared a viable RED HEIFER. That is not the problem. The problem is it must take place on top of the Mt. of Olives, as the Priests have to enter the TEMPLE Sanctified by the ashes mixed in spring water. How do you cross all those GRAVES, without defiling the Priests, as they believe it is defiling to cross a graveyard, and to the North is a settlement Muslims, and to cross there would being equally Defiled.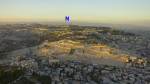 That is almost all GRAVES of people who wanted to be buried there, surrounding most of the Mt. of Olives.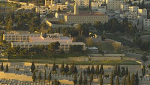 There is barely enough room on that lawn up top the Mt. of Olives to set up a TABERNACLE, for the Red Heifer Sacrifice.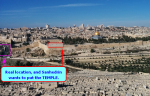 You see from that top of Mt. of Olives is where the Tabernacle is supposed to be, so the Red Heifer, they think washing in the Gihon Spring water mixed with it, will sanctify the Priests. Now how do you get the Priests back to the Temple, without crossing a graveyard or Muslim Land, which they think is defiling to them ? ? ? If you do not know that North and East and South of the Mt. of Olives, belongs to JORDAN.
That is why the STALL on building the THIRD TEMPLE, because of this ongoing debate. Now I do not know, but I SUSPECT, the Sanhedrin will build a helicopter of all parts from ISRAEL, declare it Kosher for the Priests to travel in without defilement, and fly them back to the TEMPLE.