Sep 17, 2016
5,958
2,781
113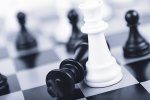 In Chess, we have the possibility of 5,949 moves. All a choice influenced by your opponent. The enemy wants to defeat you by defeating your King. The word "checkmate" comes from the Arabic word "shah mat" which translates to "The king is dead" in English. In Matthew 27:37 as Jesus was being crucified, there was a sign that said "This is Jesus the King of the Jews."
Two Kings are at war. One is considered the ruler of this world while the other is the supreme ruler of a Kingdom not of this world. The war is over the human soul.
John 12:31
New Living Translation
31 The time for judging this world has come, when Satan, the ruler of this world, will be cast out.
Matthew 25:34
New Living Translation
34 "Then the King will say to those on his right, 'Come, you who are blessed by my Father, inherit the Kingdom prepared for you from the creation of the world.
Satan thought he could declare checkmate while Jesus was on the cross but he was mistaken. Jesus was materialized in the flesh and strategically had placed himself in harms way. God the Father or in chess the player who hovers over the board is outside of the game but can interfere to change the direction of the game. He can take as much time needed to strategically line up His victory.
And this is exactly what took place. The Checkmate had been averted and now Satan's rule has been defeated.
We are also on this chessboard as pawns, knights, bishops, castles, and queens. We all come from different walks of life but all equally important in the path to victory. Some are lost to the enemy and trapped in his snares. While others make it to the end and are gathered with the victor or with the conquered.
Every choice we make can contribute to the will of the Father. Every choice we make can lead to life or death. Good vs evil.
Those who live in the will of God will always declare checkmate against the enemies of God. Victory is ours and it is time we boldly make this known.
Hebrews 2:14
New Living Translation
14 Because God's children are human beings—made of flesh and blood—the Son also became flesh and blood. For only as a human being could he die, and only by dying could he break the power of the devil, who had the power of death.
4

2