Honor, Courage, Commitment
Jun 25, 2017
6,848
2,928
113
As a kid I always loved show and tell not as much to show off something of mine , but I liked seeing what made the other kids happy. So kids.... got anything you'd like to share? It can be a story, a picture of something you bought or were given or even something you made /cooked ( admit it, we are all foodies here) .
I'll start. Clouds make me happy, so I'm constantly looking up..... here's a pic I took not too long ago
View attachment 197496
5.5 Hike with my best pal Rollo at the Crow's Nest Nature Preserve... Serenity in HIS majestic beauty...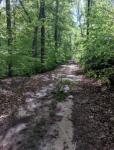 7

2