I have a missionary friend who is currently visiting Malaysia.
She posted this on Facebook, it's what they had for breakfast with the
friends she is staying with. Some sort of chicken foot soup or sauce and
noodle stir fry!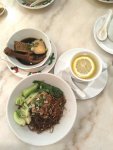 Anyway it got me wondering what you all have for breakfast.
Pictures would be appreciated.