"Here it is already, December."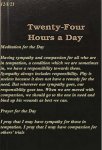 "I have certainly learned to be more responsible, and that being
to keep my attitude and conduct in check.
I was shown sympathy when I was hurting and my life was a mess,
and over the years I have come to have sympathy on many troubled lives.
And, to share how I had learned a better quality of life, this being to act
upon the principles, and to know of a Higher Power that influenced my life,
Christ our Lord."
'Praise God'