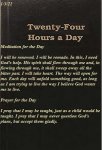 "My life has certainly been renewed by the grace of God,
so therefore, I know my life has become more orderly and
I am thankful. And one thing I have learned is that selfishness
hinders a solid relationship with God and family.
Until I became willing to change, I began to see that selfishness
had been cause of past problems, in some form.
I urge everyone to take a serious inventory of self...and strive to
eliminate selfishness...honesty is mandatory."
'Praise God'
1

1