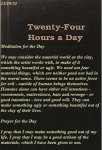 "I have learned to accept things I cannot change, and also
the importance of changing the things I can, and that being myself.
Thank God I became willing to change my life the best I know how,
and this being a daily endeavor. Through the inspiration of Christ our Lord,
I have been given the principles of life, and it being upon myself to
apply and act upon these principles, here in the now."
'Praise God"