Abraham was born in 2322 BC. Small correction to your post.
Exodus occurred in 1605 BC incidentally....
I was using this even though it goes against typical biblical timeline, but there is evidence to believe as such: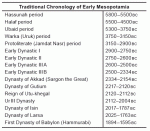 Two separate studies have dated Abraham to sometime during the Early Dynastic or the Old Kingdom periods in Egypt. John Ashton and David Down (2006) have dated him to the Fourth Dynasty while this author (McClellan 2011, p. 155) has given a range of dates from the 2nd–6th Dynasties.7 Placing Abraham in this earlier period in Egyptian history also forces Abraham to be dated significantly earlier in Mesopotamian history.
This places Abraham around Early Dynastic I (2900 - 2750 BC) - Early Dynastic II (2750 - 2600 BC), it's based off when Berin was king of Sodom.