PC do you live in the east or west of Aus. I live in the west.
Hi. I live in this hell hole known as Melbourne... Im assuming your in Perth. Howz life over there?
In the 25 years iv been working ive seen the median house price go from under 200K to over 800K.
However i have seen no changes to peoples wages.
This graph illustrates exactly what i was talking about.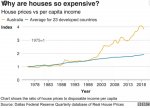 2