So it's not really a game. More something that I found helps me when I can't sleep or when I'm feeling oppressed. Sometimes it seems like I'm in an unproductive mindset and what I'm entertaining isn't exactly pleasing to the Lord. So I came up with this challenge for myself to use every letter of the alphabet and have one word accompany it with the theme that I think of...It was excellent to stave off the oppression I was experiencing and occupy my mind with a neat thing to just speak to where I was at the time.
The theme has something to do with scripture and is in honor of the Lord in some way.
It started out with anything having to do with scripture and then other times a specific theme (like our place before the Lord and who we are as the body).
You don't have to be super serious about it if you don't want to. If you'd like you can include why you picked a particular word to go along with the letter. I've done more than a few of these and some of them are "stretches" and somewhat difficult (Like X).
The first time I did it I got stumped on the letter "K" and while the rest of them were solid it took me a cycle back around to K before I could think of anything.
So to start: K is for Kangaroo because God made Kangaroos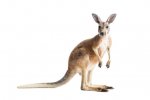 1

1