Mar 11, 2016
3,042
222
63
Sorry if I forgot anyone, but I only used the last few pages of the thread.
View attachment 174283
I hope everyone has a wonderfully meatloafless day!
Good morning to you too, Kim <3! I hope you're having a delightful day filled with love and color and happiness!
I just realised your signature is also as colorful as your writing irl!
----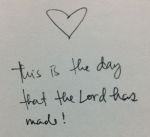 (I should be ashamed of my writing now haha)