In life, your gonna take some falls. It won't be your proudest moment, but it can be a turning point for something amazing. It's all how you look at. So, the next time you eat dirt, look up, dust yourself up, and keep going like nothing happened. Whatever you do, don't dwell on your mistake it. Learn from it!
Just today I wiped on my bicycle and some people saw me fall. I smiled, dusted myself up, waived to let people to let them know I was o.k., and just kept going. I learned road tires on bicycles don't have the same traction as off road bicycle tires. Mental note taken! haha!
I personally think making mistakes shouldn't be looked down upon, if it wasn't done on purpose. Some people like to learn the hard way. Maybe some of your hobbies or how you think isn't the most popular, but God made you different for a reason. I know my views and life style isn't very mainstream, but I learned I'd rather be a trail blazer, than stuck in traffic. With that said, embrace your uniqueness and make the most out of it. Let your light shine!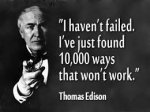 So, with that said, feel free to share some of your most humbling experiences. Falling, failing, being clueless, and etc. I would like to think this would be a no judgment zone thread, but I know I can't promise to not laugh at you. I think falling down is hilarious.